Considering a move to the cloud?
It's hard to make it through a day in life without hearing about the cloud. From news to product announcements, conferences, social media and articles, such as this one right here, cloud technologies are one of the constants in our lives. All of the major companies are utilizing cloud computing, but how do you know if it's right for your organization? The answer lies in understanding more about where you are today and your current environment.
Let's start by breaking down some of the key differentiators between cloud and on-prem.
Cost. Enterprises that deploy software on-premise are responsible for initial hardware, as well as the ongoing costs of maintenance, power consumption and space utilization. Many on-premise environments aren't fully optimized, with the average server running at only 65%. Organizations that live on the cloud only pay for the resources they use, eliminating all maintenance and hardware costs. Since they're paying based on consumption, the price adjusts depending on how much (or little) is currently being used.
Agility and flexibility. In terms of flexibility, agility and the scaling capabilities organizations need to enable growth, the cloud is unparalleled. However, there are drawbacks. As cloud environments are often managed in silos, certain platforms require specialized skills and tools. Applications may be optimized in one environment, however, they require a Well-Architected Review to ensure the architecture is optimized for the cloud.
Deployment. Deployment has never been more straightforward. On the cloud, you can deploy your app in multiple physical locations around the world with just a few clicks. This means lower latency and an improved customer experience. With an on-premise environment, resources must be deployed within the enterprise's IT infrastructure, including in-house support and maintenance taking both time and resources.
DevOps. DevOps paired with the cloud is a match made in heaven. DevOps combined with a cloud-based delivery model is a great starting point to offer both speed and agility to your business. From easier automation that makes processes more efficient, reliable, and ultimately reduces time to market to automating server replication and rapid deployment, DevOps was built for the cloud.
Environmental impacts. More and more organizations are moving to implement environmentally-conscious practices. A recent study shows that the average cloud customer utilizes 77% fewer servers, 84% less power — and 28% are powered by a cleaner power mix, reducing the total carbon emissions by 88% over operating an on-premise data center.
On-Premise vs. Cloud Overview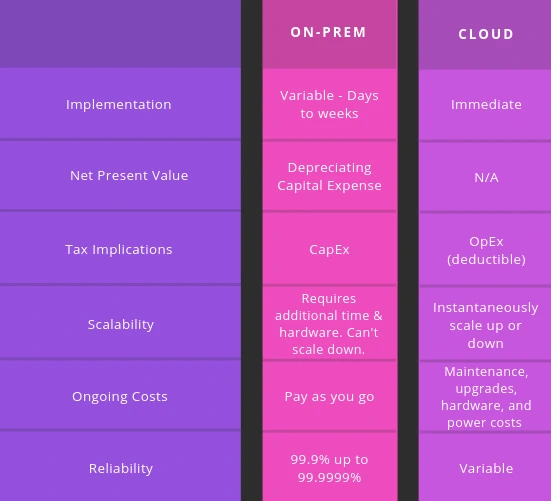 As competition in the market continues to grow, every successful company will need a scalable infrastructure to support its digital transformation initiatives. If your organization has recently made long-term investments in its data center, there are still benefits to tap into now as you plan your journey to the cloud.
Take the next steps on your journey to the cloud with Crosslake's on-demand webinar here!